About Tinicum Library
Tinicum Library began in a schoolhouse back in the mid-1930's. Our current building was erected in 1966.
We are proud members of the Delaware County Library System. We are honored to be able to serve this great area of Southeastern PA with resources for all ages to enhance education and community involvement.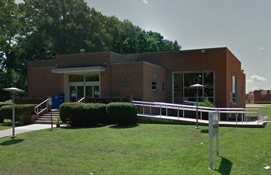 Our Mission
The mission of the Tinicum Memorial Public Library is to serve as a lifelong learning and resource center by providing a peaceful, welcoming environment where all people may experience the joy of reading, the discovery of ideas, and the power of information.
Tinicum Township
Tinicum is actually an island surrounded by both the Darby Creek and the Delaware River. Tinicum was also the first recorded European settlement in Pennsylvania, initially settled by the Swedes and originally inhabited by the Lenni-Lenape Indians. You can learn more about Tinicum by visiting the township website.
Meeting Room Application
The meeting room located in the lower level of the Tinicum Memorial Public Library provides an opportunity for bringing together the resources of the library and the activities of the community. Groups holding meetings of a civic, cultural or educational nature may use this room. Groups may not charge admission.